15+ Ideas for Fall Fun in the Twin Cities
Fall's crisp air, cooler temperatures, and spectacular colors are natural invitations to break out of routine. Deciding where to go is easy: The Twin Cities Gateway communities, located just minutes away from downtown Minneapolis and Saint Paul, offer lots of seasonal enticements. Consider these compelling ideas an invitation to come join the fun.
It's Spooktacular
When it comes to celebrating Halloween, it's hard to beat the Twin Cities Gateway. After all, Anoka is widely known and deservedly recognized as the Halloween Capital of the World, because locals celebrate October with over-the-top Halloween decorations, a festive sense of ghoulish pride, and numerous activities. What started in the 1920s as a way to divert youngsters from Halloween pranks has grown into a traditional month-long celebration of community fun with parades, movie nights, bonfires, costume contests, and much more. Ghost stories are spookiest when based on fact. The Ghosts of Anoka Walking Tour is full of haunted tales about early settlers and pioneers. Each October, knowledgeable guides lead a tour through the haunted spots and share stories of those who came before. Be sure to bring your own flashlights and cameras to possibly catch a ghost on film. Older children are welcome to join the tour. For ghastly fun the whole family can enjoy, don't miss Pumpkin Night in the Park at the Springbrook Nature Center in Fridley. As nocturnal animals creep in the night, take part in pumpkin-carving activities, watch fire dancers, dance among pumpkins, play spooky bingo, or hike past more than 1,000 jack-o-lanterns along an enchanted trail.
From Antiques to Boutiques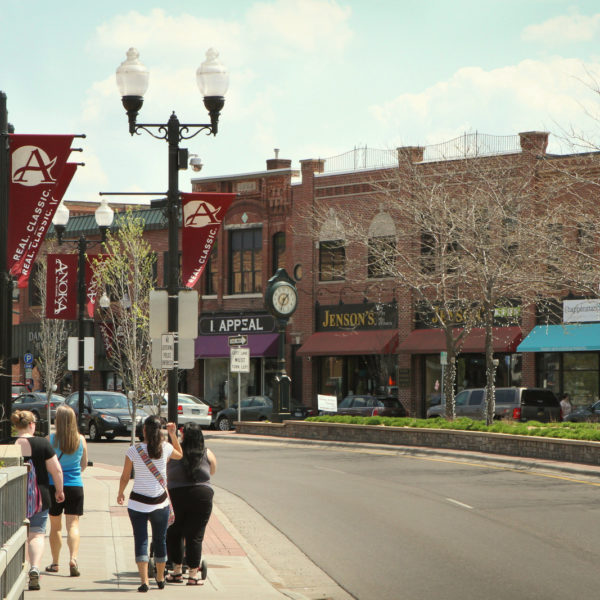 When shopping, you can find just about anything you need or want (plus plenty of surprises) at regional malls like Northtown Mall and the Riverdale Village shopping district as well as at the hundreds of other retailers throughout the Twin Cities Gateway. For a truly unique shopping experience, however, it's hard to beat Historic Downtown Anoka, which boasts some of the area's most progressive and unique shops. Twenty-two retailers stock a mix of goods from antiques to the hottest trends, from gift items to furniture, clothing to tchotchkes. Park for free, then stroll from shop to shop. When you need to refuel, step into a café, ice cream shop, coffee house, or restaurant.
Time for Two
Grown-ups sometimes need a time-out. Grab your sweetie or best friend and head to any of the Twin Cities Gateway's award-winning breweries, taprooms and/or wine tasting rooms to sip and savor some together time. 10K Brewing in Anoka aims to make the nicest beer possible, in keeping with "Minnesota Nice" values. All beers use as many local ingredients and resources as possible and a new beer is produced each week. Alloy Brewing Company, Coon Rapids' first brewery and taproom, produces a variety of beer styles from stouts to IPAs, European lagers, and even fruit beer. Invictus Brewing in Blaine is known for its expansive and convenient setting near the National Sports Center. Try a wide variety of craft beers, plus its apple ale and seltzers. Come hungry and enjoy a delicious variety of food at Tipsy Steer, a locally owned spot serving up sassy brew food inside Invictus. Forgotten Star Brew Co. in Fridley is a brewery and taproom fashioned from a 1940s pump company that was converted to manufacturing canon for the navy during WWII. Enjoy its refreshing line of beers in the large indoor space or out on the seasonal patio, plus come back in the inter for ice skating, broomball and curling. Willow Tree Winery in Ham Lake offers a park-like setting on a family farm. The tasting room pours wines made from cold-climate grapes and local produce like rhubarb and strawberry. Cheers!
That's Entertainment
Live artistic and musical performances entertain, inform and become shared memories. Whether you favor professional theatre, nationally-renowned jazz artists, or a great local band in a favorite watering hole, the Twin Cities Gateway has just the ticket. Enjoy "big city theatre with hometown charm" at Lyric Arts Main Street Stage in the heart of Historic Downtown Anoka. Take in a show (including musicals, dramas, comedies, and children's productions) or a live music event that's part of the "Music in the 'Burbs" concert series. If a sports bar vibe better suits your comfort zone, head to Maxx Bar & Grill in Ham Lake. The big screens will be tuned to Minnesota Vikings games whenever possible and live bands play a variety of music every Friday and Saturday night. Two pet-friendly patios mean you don't have to leave your furry best friend at home. Inspired by the entertaining and dining options of The Great Depression and World War II eras, Crooners Lounge and Supper Club gives the dinner-and-a-show tradition a modern spin while nodding to the past. Featured singers range from soloists to trios. Meanwhile, in Anoka at Serum's Good Time Emporium the mix of old and new is a bit more literal. The circa-1885 building is filled with antiques from the 1890s while karaoke is staged every Wednesday and a rotation of musicians play live every Thursday, Friday and Saturday night.
Back to Nature
It's no wonder why so many people claim autumn as their favorite season since there's arguably nothing better than a tranquil stroll through the woods on a gorgeous fall day: The crisp air, the crunch of fallen leaves underfoot, the contrast of bright gold, orange and red leaves against a bright blue sky! Dozens of parks in the Twin Cities Gateway provide ample opportunity for you to enjoy fall colors, wildlife, birding, and the great outdoors, yet two stand out among the very best. Both serve the great outdoors alongside nature-based activities. Wargo Nature Center in Lino Lakes is a breathtaking setting that offers everyday adventures such as kayaking, stand-up paddleboarding, Nordic walking, and snowshoeing alongside special events like a fall festival, 5k run/walk, and costume party. Fall youth activities and enrichment programs include survival basics, night hikes, and an open mic campfire. Over at Springbrook Nature Center in Fridley, three miles of hiking trails meander through oak and aspen forest, past prairies, and through wetlands with floating boardwalks; each environment offers a different glimpse of native plants and wildlife. Snakes, frogs, and other creatures are always on display in the Interpretive Center. Programs that celebrate nature, wildlife, and environmentalism are offered for all ages from toddler to adults.
Above Par
With nine golf courses to choose among, players of all skill levels are sure to find one that suits their game in the Twin Cities Gateway. If you dream of teeing up where golf legends have played, head to the TPC Twin Cities in Blaine; it's Minnesota's only private PGA TOUR club and home of the annual PGA 3M Championship. The 18-hole course was designed by golf legend Arnold Palmer and is characterized by immaculate fairways and white sand bunkers. Bunker Hills Golf Club in Coon Rapids has been named one of the nation's top 25 public courses by Golf Digest and features large greens, tree-lined fairways, and 75 bunkers. Another popular favorite, Majestic Oaks in Ham Lake, one of the state's largest golf and banquet facilities, offers two championship 18-hole golf courses, an Executive Nine, and a nine-hole Snow Golf course in the winter months. The whole family can play together at Victory Links Golf Course, which was built for youth golfers, since it has multiple tee boxes on every hole and thus plays from 2,834 to 7,092 yards. Quality time together is always a hole-in-one.