Cheers to Spring! Six Superb Patios in Twin Cities Gateway
There's no better way to bask in the warmer temps than relaxing on a patio! From breweries and brewpubs to cafes and classic hangouts, Twin Cities Gateway has plenty of patio options to enjoy this special season to the fullest! We've gathered our top patio picks, so sit back, relax, and enjoy!
Serum's Good Time Emporium
Serum's Good Time Emporium combines the best of contemporary dining and entertainment with memories of the past. Antiques on display from the 1890's provide atmosphere to match the buildings origin in about 1885, making it one of the oldest buildings in Anoka! Enjoy hot wings (known for "The Best Wings West of Buffalo"), ribs, beer and more on its expansive patio.
Bricks Kitchen & Pub
Cozy up and enjoy amazing food on the delightful patio at Bricks Kitchen & Pub in Blaine! This brickwork gastropub is serving up craft beers, and upscale pub grub.
Invictus Brewing Co.
Invictus Brewing Co. is located adjacent to the National Sports Center in Blaine and features tours and a beautiful taproom. The brewery also partners with the Tipsy Steer, a locally owned and managed kitchen that serves up local sassy brew food to their customers. Come enjoy an ice-cold beer on the patio today!
Barley John's Brew Pub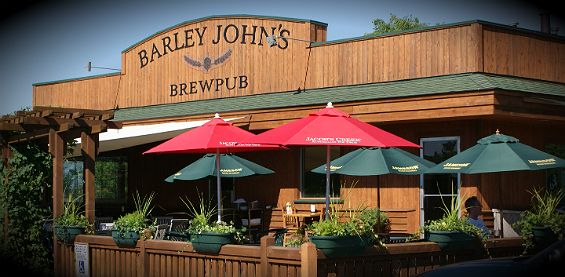 Barley John's Brew Pub, a destination for serious beer lovers and a favorite neighborhood hang out for almost 20 years. John Moore and Laura Subak opened Barley John's Brewpub on the edge of northeast Minneapolis to share their passion for good food and great beer. Barley John's is a neighborhood place with a cabin-like feel, complete with a roaring fire pit nightly. Grab a beer and hang out on the patio!
Oliver's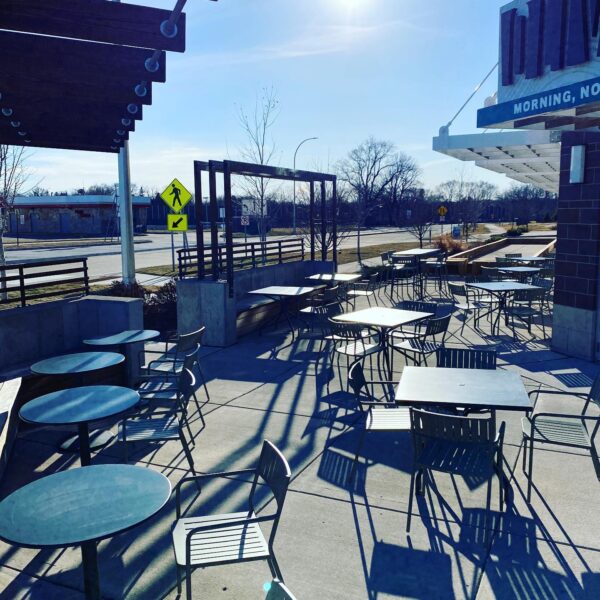 Enjoy the fresh, crisp air and sunshine on the bright and welcoming patio at Oliver's in Shoreview! Morning, noon, or night this cozy and trendy spot is serving up delicious options. In the morning, choose from flapjacks, breakfast tacos, chilaquiles, biscuits and gravy, and more. Pair your brunch favorite with a morning cocktail like The Blushing Strawberry, or the Good "Morning" Shoreview!
Noon or night, pick from a selection of appetizers like avocado toast, lettuce wraps, and brisket empanadas. You can't go wrong with the plethora of burgers and sandwiches including the Gouda Burger, Korean Fried Chicken,  Smoked Brisket, and much more. Choose from a variety of tacos,  woodstone pizzas, salads, and grain bowls. There's something for everyone!
Pair any of these delicious options with an endless list of cocktails, like the Paper Plane, a grown-up version of a Whiskey Sour, or the Honeycut Cosmo, a nostalgic take on the classic! Or grab a glass of wine or beer for Oliver's extensive drink menu. Lastly, don't forget to save room for one of Oliver's signature desserts, the Salted Caramel Dacquoise or their unique take on 'Strawberry Shortcake!'
Extend your dining adventure and play a round of Bocce Ball!
Kendall's Tavern & Chophouse
Located at the beautiful Bunker Hills Golf Club in Coon Rapids, Kendall's Tavern & Chophouse serves up excellent food in generous portions. Kendall's offers a huge patio with an amazing view of the golf course. It was voted Best Twin Cities Patio by the Pioneer Press 2016.
Kendall's, is a great place for date night and is regarded as one of the finest restaurants in the north metro area. The wait staff are attentive, the atmosphere is cozy and welcoming, and the food is amazing! Try the delicious walleye or the coconut shrimp or the glazed pork chop. For desert, treat yourself to the molten lava cake. Come hungry! During the off-season, challenge your partners to play a round of golf at Pebble Beach or other notable courses on the simulators located in the Bunker Hills clubhouse.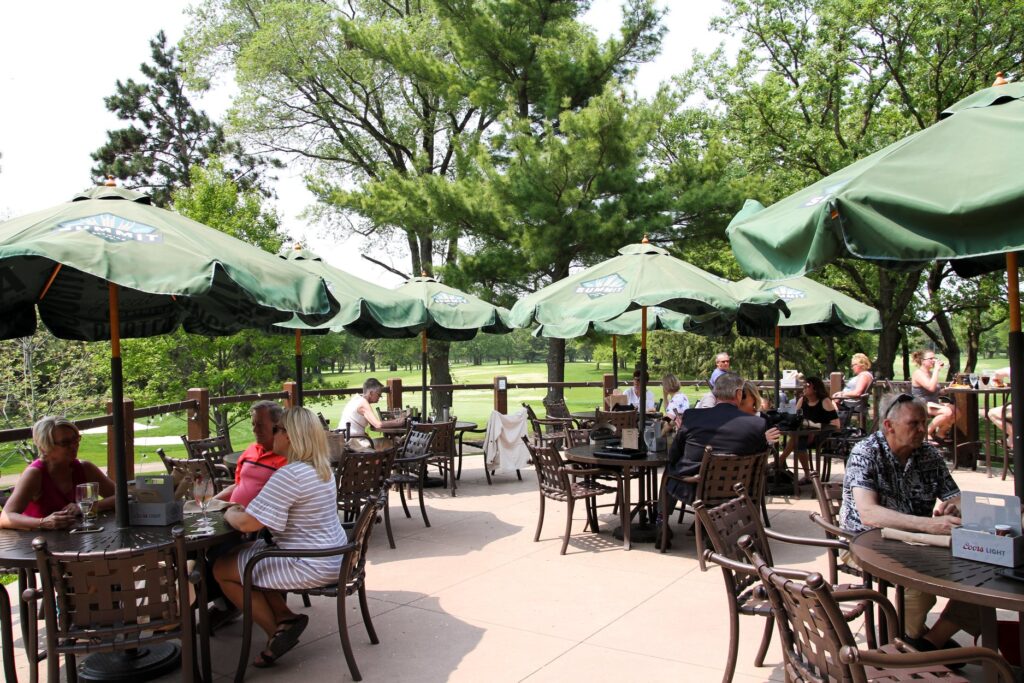 For more ideas to extend your adventure in Twin Cities Gateway, head to our blog, where you'll find Top 5 Winter Adventures to Explore, Nine Outdoor Patios to Get Cozy at This Winter, Top Tasty Takeout Options in Twin Cities Gateway, Top Ten Truffles, Tortes & Treats, and so much more! Plus, follow us Facebook, Twitter and Instagram for more adventure inspiration! For the latest news and updates, sign up for our e-newsletter below!