Eight Great Valentine's Day Date Ideas
Whether you're celebrating Valentine's Day with your special someone or your best gals, we've got plenty of exciting options and unique excursions to spent this intimate holiday! From catching a live show to a cozy candlelit dinner and from exploring the outdoors to discovering the newest speakeasies, this list will give you plenty of inspiration to celebrate this lovely holiday to the fullest, and beyond!
1. Enjoy a romantic dinner – in person or at home!
When it comes to that cozy meal with your Valentine, we've got plenty of options, including safe dine-in meals and comfy take-out dishes.
Kendall's Tavern & Chop House in Coon Rapids is ready to make your Valentine's Day one you'll never forget with their 3-course Prix Fixe Menu.  The menu includes, soup, salad, choice of petite filet Oscar, twin crab cakes or grilled filet of beef & crab cake, and dessert.
For another intimate dining experience with snowy and scenic views, enjoy the Valentine's Day Dinner Special at Tavern at Greenhaven in Anoka from 4-9:30 p.m.,  Feb. 10-14. You'll be treated to soup, salad and all you can eat crab legs! The special also includes vanilla cheesecake and a glass of wine or beer.
Mad Hatter Restaurant & Tea House
Craving a truly unique dining experience? Take a cue from Alice in wonderland and pickup a special meal and tea from the one and only,  Mad Hatter Restaurant & Tea House!
2. Explore the outdoors!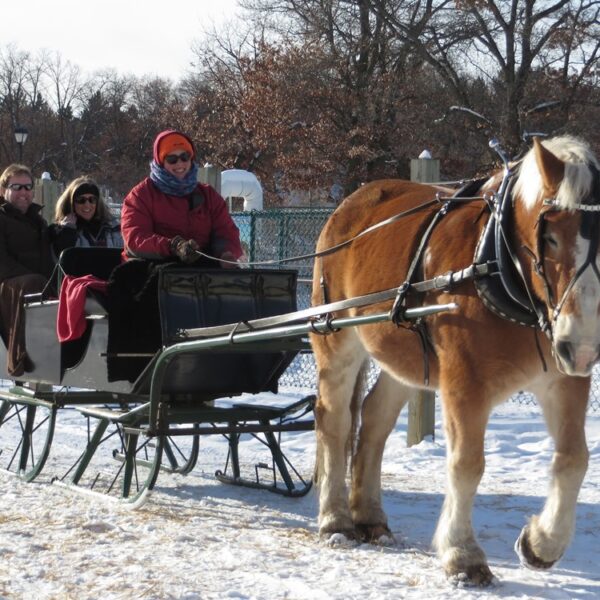 Nothing gets our heart racing like getting out for a winter wonderland adventure! Here are a few of our fave activities to spend with your love, your close Galentine gal pals, or your whole family.
Cozy up for sleigh ride at Bunker Park Stables! Take an unforgettable ride on the 2-4-person Antique Sleigh. Reservations are necessary and COVID protocols are in place to ensure all visitors and staff are safe and healthy.
Take a candlelit snowshoe stroll at Springbrook Nature Center. Bring yourself, a friend or your whole family on an evening stroll through the trail at the nature center in Fridley. Naturalists will guide your way with the cozy glow of lantern light on the trails, and let you warm your hands over a fire. If conditions allow, you may rent or bring your own snowshoes!
Bundle up and go fat biking! Take your love of biking to the snowy season at the fat tire biking trails at Rice Creek Chain of Lakes Park Reserve in Lino Lakes. The 3.2 kilometers of trails include plenty of space for biking and cross-country skiing!
Grab your pup and try skijoring! Head to Bunker Hills Regional Park, where you can go skiing or snowshoeing or combine winter sports and spending time with your furry best friend!
3. Catch a live show - in-person or stream from home!
Live music is back! You and your special someone can enjoy the best in jazz music at Crooners Supper Club's newly remodeled MainStage, boldly adapting the guest experience, service, and layout. The club is ready to offer a whole new model for live assembly!
4. Get Crafty!
Stay warm and toasty and unleash your artsy side with Appleberry's Attic Craft Studio in Anoka! This crafty local company is offering walk-in workshops. There are three workshops the weekend before Valentine's Day (dates below), and no registration is required. If you'd rather craft at home, check out one of Appleberry's Craft Crates!
Walk-in Workshop Dates:
5. Treat Yourself (and your Valentine)!
From Swedish pastries to Texas-size donuts, and truffles to fondue, there are endless options to fulfill your sweet-tooth in Twin Cities Gateway!
Swedish Crown Bakery & Café in Anoka
This cozy locally owned bakery serving up Nordic and European treats, will have some specialty items for Valentine's Day such as the famous "Princess Cake" by the slice, which they only offer four times a year and will also have some specialty/romantic brunch items.
Enjoy speakeasy meets cafe vibes at this intimate wine bar in Anoka. On Valentine's Day, they will be offering a Fondue special and 1/2 Off Select Bottles, from 3-8pm.
The bar's historic ambiance pairs a warm setting with the energy of live acoustic music (pre-COVID) and rotating galleries from local artists. Ambi's menu features a strong assortment of wines, as well as a curated assortment of local breads, cheeses, and desserts from Anoka staples, Truffles & Tortes and Anoka Meat & Sausage.
Since 2000, Truffles & Tortes has provided the finest in award-winning desserts to some of the best hotels, restaurants, and businesses in the Twin Cities. From the Chocolate Truffle Torte (which includes three types of chocolate) to the Strawberry Chantilly (featuring fresh strawberries blended into Chantilly cream between layers of moist white cake, and topped with fresh glazed strawberries), you really can't go wrong with any of the treats at this downtown favorite.
Texas-size donuts, turnovers and beehives, oh my! This historic Anoka bakery has been serving up treats since 1973 and they've got as many treats as they have years of history! You're sure to find more than enough pastries for you and your special someone to enjoy.
For more ideas to satisfy your sweet tooth, head to our blog on Top Truffles, Tortes & Treats!
6. Celebrate Galentine's Day!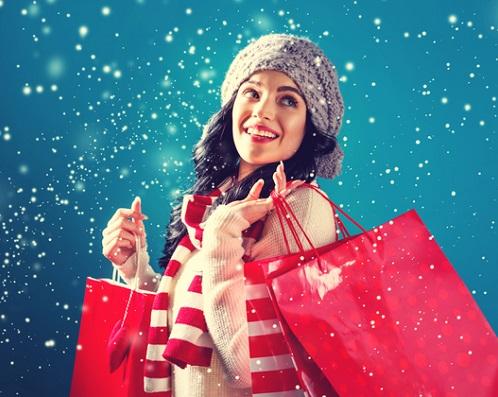 Who says your Valentine has to be your significant other?! Grab your gal pals and head to downtown Anoka to celebrate Galentine's Day,  an unofficial holiday on 2/13 created for the TV Series, Parks and Recreation back in 2014!
Grab your traveling passport at participating stores and enjoy some fun shopping and plenty of promotions with your favorites! Once you're done traveling, drop it off at any of the stores and get entered to win gifts!
7. Sleuth Around for a Speakeasy!
If you're looking for a fun adventure and truly unique atmosphere and libations, head out on a hunt to find two elusive and one-of-a-kind speakeasies in Anoka!
Wear your best 1920's flair and enter to relive a by-gone era of the prohibition days. Craft cocktails, beer, prohibition drinks, appetizers, and desserts are waiting for you when you descend the back stairs through red door and give the secret password.
Look for the red light and you'll be delighted with craft cocktails, luxurious seating, and jazz music at the Anoka Hardware Store Speakeasy.
8. Call it a Night!
Nothing says intimate and cozy like the historic Ticknor Hill Bed and Breakfast in Anoka. Enjoy the peacefulness of the porches, the warmth of the fireplaces in the parlor or library, the sunshine streaming in the conservatory, or a game of billiards.
Historic Ticknor Hill was built in 1867 when Anoka was a bustling river town. This is a Queen Anne Victorian home that is on the National Register of Historic Places.
Looking for an intimate getaway without breaking the bank? Get comfy at the Quality Inn – Coon Rapids and you and your special someone can enjoy the special rate of $59 plus tax on Valentine's Day.
More Information
Website
More Information
Website
More Information
Website