Family Road Trip from Fargo to Twin Cities Gateway
Skyzone Trampoline Park in Fargo, ND
Get some wiggles out before you hit the road at SkyZone Trampoline Park.  Bounce on a giant trampoline, play basketball or dodgeball on an air-filed court, and test your balance on the tightrope.  Tickets are available for 60, 90, and 120 minute open jumps and include full access to all activities.
If you like this, check out Zero Gravity Trampoline Park in the Twin Cities Gateway! 
Casey's Amusement Park in Alexandria, MN
Take a break and let the kids drive at Casey's Amusement Park, which offers three full-sized go-kart tracks as well as kiddie karts for children ages 4 to 9.  Splash around in the bumper boats and check out the two unique 18-hole mini golf courses with waterfalls, rivers, and boulders.  There's also a free picnic area and snacks available for purchase.
If you like this, check out Lilli Putt in the Twin Cities Gateway! 
Hemker Park & Zoo in Freeport, MN
Visit Tio, the only rhino in the state of Minnesota, at Hemker Park & Zoo.  You'll also meet zebras, otters, a giraffe, monkeys, kangaroos, and more.  Kids will love interactive encounters like the Budgie Buddy House—walk in with a seed stick and watch the birds land on your hand.  Sit back and relax on the tram tour, which includes stories about the zoo's animals.
If you like this, check out Springbrook Nature Center in the Twin Cities Gateway! 
Quarry Park and Nature Preserve in St. Cloud, MN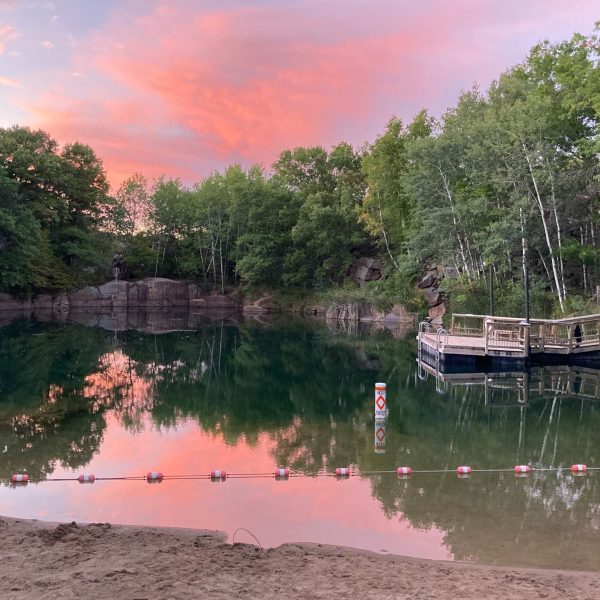 Explore the great outdoors at Quarry Park and Nature Preserve, which has nearly 700 acres of scenic woodlands, quarries, and wetlands.  Cool off with a swim in one of the park's swimming quarries—Quarry #11 has a sandy beach, making it perfect for families.  There are also picnic tables and grills throughout the park.
If you like this, check out Bunker Hills Regional Park in the Twin Cities Gateway! 
Twin Cities Gateway, MN
You've made it!  The ten communities of the Twin Cities Gateway (Anoka, Arden Hills, Blaine, Coon Rapids, Fridley, Ham Lake, Lino Lakes, Mounds View, New Brighton, and Shoreview) offer family-friendly attractions like the Fun Lab and Springbrook Nature Center (plus all the other activities mentioned in this article!), as well as tasty eats, parks and trails, and affordable hotels with free parking.  In addition, the Twin Cities Gateway is conveniently located to Minneapolis and Saint Paul, making it the perfect base for your getaway to the Twin Cities.