Nine Outdoor Patios to Get Cozy at This Winter
It doesn't get much more Minnesotan than getting cozy on an outdoor patio in the middle of winter!  During the pandemic, restaurants are keeping visitors warm and toasty with heaters, fireplaces, igloos, tents, and other pivots to extend patio season. Check out some of our top picks to embrace new outdoor dining experiences this winter.
Note: Most restaurants are requiring online reservations for their limited patio space, so check each restaurant's website ahead of time.
201 Tavern Beer Garden & Grill
Enjoy a Bold flavored menu, craft beers, cocktails and more at 201 Tavern Beer Garden & Grill's outdoor patio. This toasty gathering spot is part of the "Miracle on Jackson Street," where several restaurants in downtown Anoka have been able to expand into Jackson Street, providing patio seating and cozy fire pits.
201 Jackson Street #102
Anoka
Casa Rio Tex Mex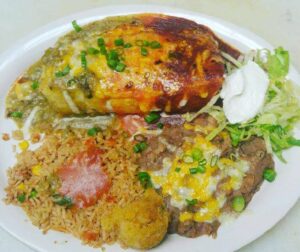 Located in the heart of Downtown Anoka's Entertainment District, Casa Rio Tex Mex prepares fresh, authentic Tex Mex daily. This family-friendly restaurant with a full bar and daily drink and dinner specials is offering comfy outdoor street side dining as part of the "Miracle on Jackson Street" with warming fire pits and a special fireside menu!
201 Jackson Street,
Anoka
763-205-2427
Serum's Good Time Emporium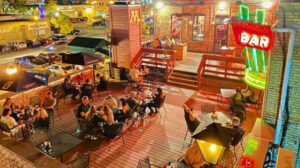 Serum's Good Time Emporium combines the best of contemporary dining and entertainment with memories of the past. Antiques on display from the 1890's provide atmosphere to match the buildings origin in about 1885, making it one of the oldest buildings in Anoka! Enjoy hot wings (known for "The Best Wings West of Buffalo"), ribs, beer and more on its expansive patio with heaters and its tent-covered heated deck.
213 Jackson St
Anoka, MN 55303
763-421-7522
Bricks Kitchen & Pub
Cozy up and enjoy amazing food on the heated patio at Bricks Kitchen & Pub in Blaine! This brickwork gastro pub is serving up craft beers, and upscale pub grub.
10673 Baltimore St.
Blaine
763-703-4109
Breweries
Forgotten Star Brew Co.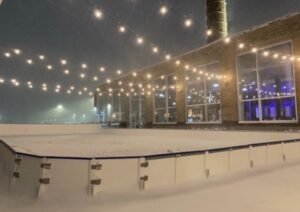 Combine winter recreation and local brews at Forgotten Star Brewing Co. in Fridley! Enjoy a leisurely skate on the first-ever ice-skating rink in the parking lot or join a boot hockey or curling league and unwind with a refreshing beer on its cozy outdoor patio, complete with heat lamps and winter wonderland lighting.
38 Northern Stacks Dr
Fridley
763-657-7231
Alloy Brewing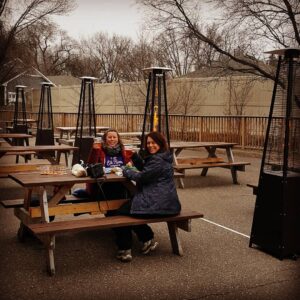 Head to Alloy Brewing Company in Coon Rapids and stay warm and toasty on its patio with heat lamps. This brewery and tap room focuses on supporting and giving back to the community. The patio heaters are warm, but they suggest you dress for the bold north weather and feel free to bring blankets, extra layers, etc.!
2700 Coon Rapids Blvd NW
Coon Rapids
763-432-0939
10K Brewing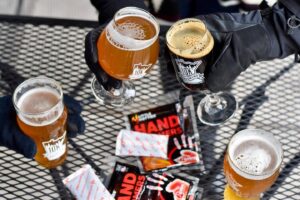 Visit 10k Brewing, Anoka's first and only taproom. Sample a flight of some of their wide variety brews and take home a growler or two of your favorites. 10K's taproom features a friendly atmosphere and entertainment. Nice beer. Nice people. Their unique, street side patio is open for those hearty Midwesterners who don't mind a little cold!
2005 2nd Ave
Anoka
763-392-4753
Invictus Brewing Co.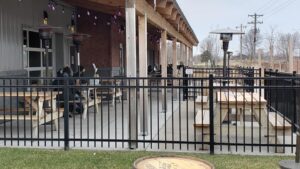 Invictus Brewing Co. is located adjacent to the National Sports Center in Blaine and features tours and a beautiful taproom with capacity of about 200. The brewery also partners with the Tipsy Steer, a locally owned and managed kitchen that serves up local sassy brew food to their customers. Come enjoy an ice-cold beer on the patio today!
2025 105th Ave NE
Blaine
Barley John's Brew Pub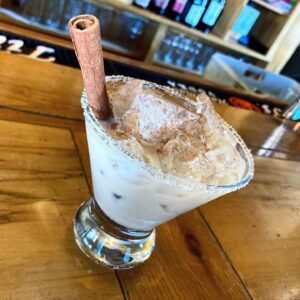 Barley John's Brew Pub, a destination for serious beer lovers and a favorite neighborhood hang out for almost 20 years. John Moore and Laura Subak opened Barley John's Brewpub on the edge of northeast Minneapolis to share their passion for good food and great beer. Barley John's is a neighborhood place with a cabin like feel, complete with a roaring fire pit nightly. Grab a beer and hangout on the patio!
Extend your winter adventure with our Top 5 Winter Adventures to Explore! Embracing the chill of an outdoor patio in winter not your thing? Support local businesses and #GetTakeoutMN with our Top Tasty Takeout Options in the Twin Cities. For more fun things to do all winter long, follow us on Facebook, Twitter, and Instagram.