Hotel Group Donating N95's to healthcare workers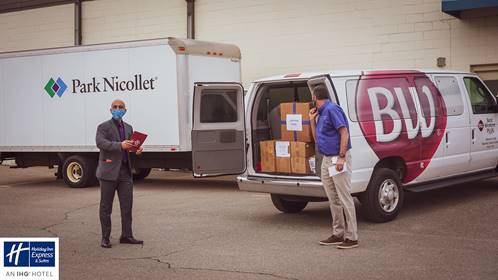 Minneapolis, MN (May 1st, 2020) – In the spirit of Park Nicollet's Head & Heart philosophy. it is with great honor I am able to present, on behalf of Mr. Amar Schdeva and Mr. Upjit Schdeva , owners of Best Western Plus at the National Sport Center, Holiday Inn Express in Coon Rapids, and Holiday Inn Express in Mankato, a total of 1,840 N95/KN95 masks for your healthcare providers to help keep them safe while they heroically care for all of your patients during these unprecedented times.
Out hotel group is committed to assisting the healthcare community locally & globally ensuring health care systems are fully supported through this pandemic. Because We Care, we will get through this together.
Thank you for all that you do to keep our community safe.
Forogh Amini, CHA
Hotel Group Representative
S&S Enterprises, J&J Investments