Top Holiday Lights Displays to Brighten Up the Season
Cheers to the end of 2020! Celebrate the holiday season with a plethora of safe and healthy lights displays!
Anoka
Enjoy holiday lights from the warmth of your vehicle at the Holiday in Lights display at the Anoka County Fairgrounds, Dec. 4 – Jan. 2, from 5-9 p.m. And don't forget to get your holiday shopping done too, at the Over the River and Through the Woods shopping events through Dec. 24 in Downtown Anoka.
Blaine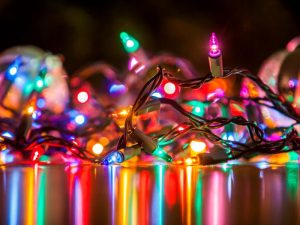 Delight in the joy of the Parade of Lights in Blaine this holiday season, Dec. 1 through Jan. 8. View the map here to go on a self-guided tour of holiday displays throughout Blaine and the surrounding communities. The map will be updated throughout, so check back often for new listings.
Coon Rapids
Savor some extra holiday cheer in Coon Rapids to round out 2020! Everyone is invited to drive around the city in a self-guided tour, viewing entries in the City's 2020 Holiday Lighting Contest.
The contest includes 15 lights displays in the "motion" category and 19 entries  in the "still" category for a total of 34 entries received this year.
Maps and addresses of the locations can be found here online or with this PDF map. When using the online mapping tool, you can travel from location to location and get directions along the way thanks to the integrated mapping software.
Members of the Coon Rapids Arts Commission will judge the entrants December 10-13. Winners will be selected on the basis of visual appeal, uniqueness, variety, safety and tidiness. Cash prizes are available to the top two winners in both categories. Commission members thank EVERYONE who entered this year and invite the public to share in the excitement of holiday lights!
Once winners are announced by the Commission after December 14, check the city's website for information as well as the City's social media sites.
Fridley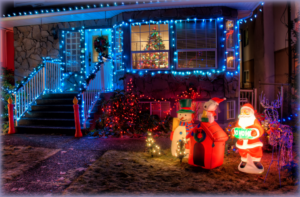 Help spread holiday cheer by decorating the exterior of your home! This includes porches, balconies, yards, doorways, or anything you can think of. Entries will be judged on overall impact, visual appeal, uniqueness, variety and tidiness. All entries will be placed on a map (unless otherwise indicated by the homeowner) so that residents and visitors can create their own custom lights tour around town! Judging will take place December 9-11. Winners will be announced, and maps will be available on December 15. Tour maps will be made available at City Hall and at FridleyMN.gov/Recreation.
Mounds View, New Brighton, Shoreview and Roseville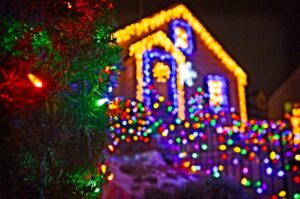 Planning some impressive holiday decorations this year? Looking for a safe and comfy activity for a cold winter night? Check out the Holiday Light Map across Mounds View, New Brighton, Shoreview and Roseville!
Looking for more holiday fun, check out our guide to shopping local this holiday season and our guide to takeout, plus, follow us on Facebook, Instagram and Twitter for more holiday inspiration.