Treat Yourself! 7 Sweet Pastry & Coffee Shops in Twin Cities Gateway
Twin Cities Gateway is your go-to destination for a pastry-filled adventure! From donuts as big as your head to homemade Twix bars, and from French pastries to German Beehives, you'll find something to satisfy your sweet tooth! Here's a list to get you started on a tour of the best pastries, donuts, and treats, so dive in and treat yourself!
Hans' Bakery
Who says a donut can't be eaten family-style?! Take one look at the as-big-as-your-head Texas Donuts at Hans' Bakery in Anoka and you'll see that one donut can feed a whole family! This classic donut shop which opened in 1973 is famous for these iconic donuts, in addition to its signature treat, the German Beehive – a yeast-raised cake baked and split and filled with pastry and whipped cream mixture. And, of course, they sell "regular-sized" donuts too, along with a variety of cookies, cakes, bars, and other pastries.
Krown Bakery & Eatery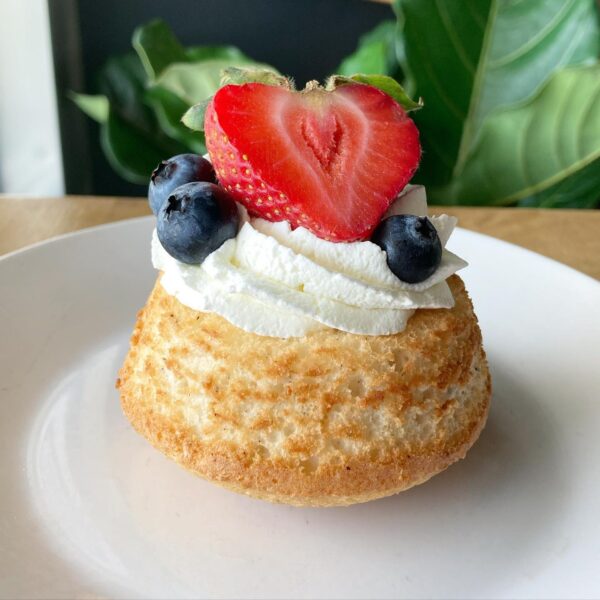 Scandinavian and European bread, pastries, cookies, and desserts. Some of its specialties include pastries made from sweet cardamom bread, delicate cakes and cookies, turnovers, Danishes, and much more. Krown Bakery 's truly unique treats are the sweetbreads, including Stockholm, a soft cardamom bun filled with lemon curd and vanilla custard; Orange Twist, made with fresh orange zest and vanilla custard; and Almond Delight, a twist with almond butter and raspberry jam. Completely immerse yourself in Swedish heritage and try the Budapest Roll, a Swedish specialty made with hazelnut meringue, filled with organic whipped cream, Mandarin wedges, and raspberries; or the Beehive Tosca, a Swedish version of a German classic made with a puff pastry baked with crispy honey almond and filled with Bavarian cream. Did we mention cookies?! The Coffee Cookie is a must for any coffee lover. The Oat & Cardamom Cookie is a crispy cookie packed with caramel flavor and a hint of cardamom. We suggest our personal favorite, Krown's homemade Twix Bar!
American Bistro
And if there aren't already enough great pastry spots in Anoka… The American Bistro in downtown Anoka is kicking it out of the park with its legendary scones, Italian puff pastries, and specialty cookies. Come for lunch and enjoy American Bistro's artisanal home-style cooking and world dishes and cozy soups with freshly baked bread. Stop by anytime and enjoy locally roasted coffee and espresso with an unforgettable baked treat!
Limu Coffee
Warm-up with a sip of 100% Ethiopian Fair Trade Organic Coffee or hot coca at Limu Coffee in New Brighton. Stop into this local Black-owned and Ethiopian-owned shop for hot or cold espresso and tea drinks, smoothies, and sodas, and Wi-Fi.
Avant Garden
Established in 1995, Avant Garden is a family-owned coffee house that has evolved into a community staple. Located in historic downtown Anoka on Main Street, enjoy the friendly atmosphere along with a delicious craft latte before visiting the delightful neighborhood shops.
Bru House Coffee Shop & Drive-Through
Family-owned since 1996. Award-winning Bru House Coffee Shop & Drive-Through in New Brighton is serving up some of the best coffee in the Twin Cities!
Bru House is an ideal gathering spot for family and friends as well as a great place for business meetings. Come from breakfast and enjoy a great selection of breakfast sandwiches, frittata muffins, and fresh-baked pastries. Or stop in for lunch and enjoy a savory sandwich and cozy cup of soup.
Truffles and Tortes
Since 2000, Truffles & Tortes has provided the finest in award-winning desserts to some of the best hotels, restaurants, and businesses in the Twin Cities. From the Chocolate Truffle Torte (which includes three types of chocolate) to the Strawberry Chantilly (featuring fresh strawberries blended into Chantilly cream between layers of moist white cake, and topped with fresh glazed strawberries), you really can't go wrong with any of the treats at this downtown favorite.
Share your foodie adventures with us on Facebook, Twitter, and Instagram with the hashtag #VisitTCG.
For more ideas to extend your adventure in Twin Cities Gateway, head to our blog, where you'll find 20 Things To Do in Twin Cities Gateway,  the scoop on tasty ice cream treats, superb patios, BIPOC-owned businesses to support, and so much more!
Plus, follow us Facebook, Twitter and Instagram for more adventure inspiration! For the latest news and updates, sign up for our e-newsletter below!
More Information
Website
More Information
Website
More Information
Website