Sweet Treats! Top Ten Truffles, Tortes & Treats
Twin Cities Gateway is your go-to destination for a treat-filled adventure! From donuts as big as your head to triple-layer tortes, and from Swedish pastries to German Beehives, you'll find something to satisfy your sweet tooth! Here's a list to get you started on a tour of the best pastries, donuts and treats, so go ahead and treat yourself!
1. Chocolate Truffle Torte – Chocolate Decadence at Truffles & Tortes
Since 2000, Truffles & Tortes has provided the finest in award-winning desserts to some of the best hotels, restaurants, and businesses in the Twin Cities. From the Chocolate Truffle Torte (which includes three types of chocolate) to the Strawberry Chantilly (featuring fresh strawberries blended into Chantilly cream between layers of moist white cake, and topped with fresh glazed strawberries), you really can't go wrong with any of the treats at this downtown favorite.
2. Strawberry Shortcake at Oliver's
Throw away your preconceived notions about Strawberry Shortcake and enjoy a fresh and unique take on the classic dessert at Oliver's in Shoreview. This delightful treat includes rum soaked butter cake, raspberry semifreddo, orange vanilla semifreddo, strawberry dust, and butter cake crumble. You can't go wrong with Oliver's selection of desserts, which include Salted Caramel Chocolate Dacquoise, (chocolate almond meringue with ganache and salted caramel mousse), Zeppole (ricotta doughnut, cinnamon sugar, caramel, orange cream), and cheesecake with macerated berries.
3. Texas Donuts at Hans' Bakery
Who says a donut can't be eaten family-style?! Take one look at the as-big-as-your-head Texas Donuts at Hans' Bakery in Anoka and you'll see that one donut can feed a whole family! This classic donut shop which opened in 1973 is famous for these iconic donuts, along with a wide array of many other tasty pastries. Keep scrolling for its signature German Beehive later in the list!
4. Chocolate Molten Lava Cake at Kendall's Tavern & Chophouse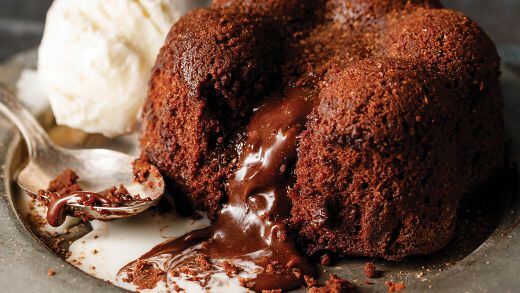 Molten, chocolate, cake… need we say more to tempt you?! The Chocolate Molten Lava Cake at Kendall's Tavern & Chophouse in Coon Rapids, will leave your mouth watering the second it appears on your table! Layers of moist and decadent chocolate cake, give way to a warm molten chocolate center, all topped with vanilla bean ice cream. The perfect way to finish any meal!
5. Celebration Cake at Mad Hatter Restaurant & Tea House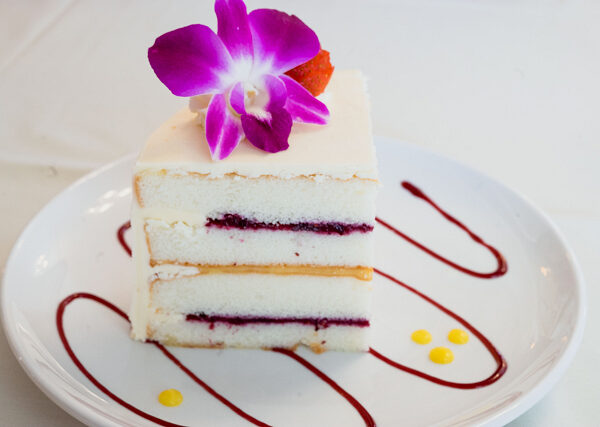 At Mad Hatter Restaurant & Tea House, they're not joking around when they say "Gigantic" Slice of Celebration Cake! One slice of this delicious white cake layered with lemon curd and blueberry lemon lavender jam serves 2-4 people! Perfect for any occasion like birthdays, anniversaries, graduations, or no occasion at all, except treating yourself! A whole cake serves 8-12 people, but must be reserved ahead of time.
6. Chocolate Chip Pancake at R.J. Riches
Speaking of giant treats… Pull up to R.J. Riches Family Restaurant in Mounds View and order a pancake, and you may need a forklift to pick it up! The family-owned cozy spot, is serving up their secret recipe of huge pancakes. Choose from a wide array of flavors from more traditional like blueberry and strawberry to chocolate chip nut and Hawaiian (ham and pineapple).
7. Princess Cake at Swedish Crown Bakery
Swedish Crown Bakery offers endless pastries, brunch, and lunch options to dazzle any appetite! This cozy locally owned bakery serving up Nordic and European treats, will have some specialty items for Valentine's Day such as the famous "Princess Cake" by the slice, which they only offer four times a year and will also have some specialty/romantic brunch items.
8. Italian Doughnut at Giuseppe's Italian Ristorante
Take a trip to Italy with your taste buds at Giuseppe's Italian Ristorante in New Brighton! Dive into moist, powdery, and sugary goodness with its special Italian Doughnut. Be sure to start with delicious, home-style Italian cuisine. Giuseppe's serves up generous portions of excellent food at very reasonable prices with friendly service in a quaint setting. For appetizers, try the mozzarella marinara, calamari and deep-fried mushrooms. Dinner favorites include ravioli, manicotti and lasagna, served up with delicious bread with olive oil.
9. German Beehive at Hans' Bakery
In addition to the amazing Texas Donuts mentioned previously, Hans' Bakery in Anoka is also known for its signature treat,  the German Beehive – a yeast-raised cake baked and split and filled with pastry and whipped-cream mixture. And, of course, they sell "regular-sized" donuts too, along with a variety of cookies, cakes, bars and other pastries.
10. Churros at Fiesta Cancun
Mexican pastry sticks deep-fried and rolled in cinnamon and sugar… you had us at pastry! Fiesta Cancun Grill & Bar in Lino Lakes is serving up the warm and spicy Mexican treat with ice cream. The spicy dough pairs with the creamy and cool ice cream perfectly! If that's not enough to satisfy your sweet tooth, choose from a wide variety of other Mexican dessert specialties, including Tres Leches, Fried Ice Cream and Sopapilla!