A Halloween Capital, Discovering Anoka's History, Trails, and More
Rolling into Anoka, MN for my next bike adventure, I felt a welcoming charm in this relaxing community with hospitality everywhere i turned. With gear on, water bottles full and a backpack with possible necessities I was ready to pedal. The vast trail and bike friendly road network in the Twin Cities Gateway communities was ready for me. In Anoka, my headquarters for this trip is just north of Minneapolis and at the confluence of where the Rum River flows into the Mississippi, along the Mississippi River Trail (MRT). To my amazement many of the historic buildings in this river town's downtown area are still standing, As many of the structures were built long before smartphones gave everyone the world in the palm of their hands.
Anoka Heritage Home & Garden Tour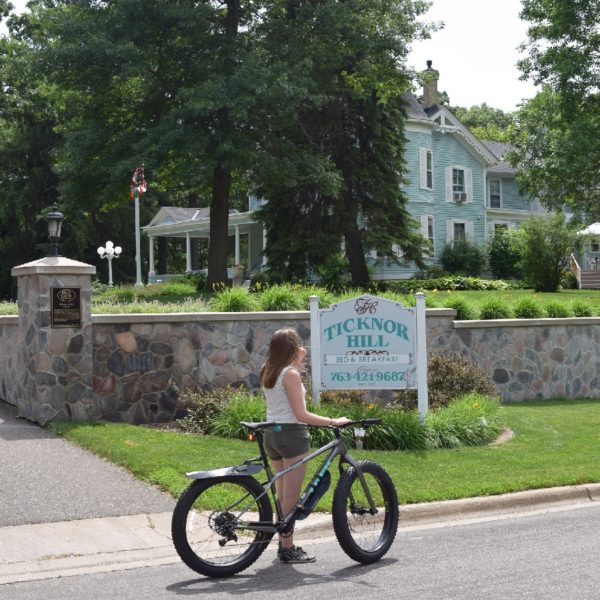 Thankfully you've eaten, because it's time for a historic event. The Anoka Heritage Home & Garden tour will take you on a very memorable journey Anoka's history. It's a self-guided tour with 17 stops that include area such as the historic Slabtown and Christian Hall neighborhoods. You'll find out the origins on their names and stories from its first residents.
There are actually two stops on the tour that have made their way onto the coveted National Registry of Historic Places. The Ticknor Hill Bed and Breakfast is still providing guests a nice small town hospitality while they visit, and the Woodbury House is home to the Mad Hatter Restaurant and Tea House. These and so many more are waiting for you come July.
Mississippi River Trail
Once you finish with the tour you may want to hit some more trails before the sun starts to set. Now, you're in luck for reasons. First off, the Northstar Train isn't far from where you are. Just buy a ticket and hop on board with your bike. This train will drop you off close to the Mississippi River Trail which will help give you more time for exploring. The river itself flows close to downtown Anoka so you can make your way back pretty easily.
10K Brewery
There's nothing like a cold beer to reward yourself after a day of riding. This is the only local brewery on this side of the Twin Cities Gateway and it has a calendar full of events. You taste its different brews such as the Amber, snack on some pretzels and even bring in your own food. while quenching your thirst you cam also play some trivia and enjoy live music from local artists.
A Night of Art
Now that your palate has been satisfied you may be ready to immerse yourself in the local arts scene. One of the main attractions is the Lyric Arts Main Street Stage. Here you'll be able to escape as actors and actresses bring you into different worlds with numerous productions throughout the year.
Ice Cream
Depending on when you get done you can head on over to Two Scoops for some great ice cream. It's a very comfortable place with everything from ice cream in a cone to sundaes. It even has a small candy section that brings to mind the big candy stores many small towns used to have.
Other Events
Anoka has many more happenings all throughout the year that you'll definitely want to check out. On July 8thcome by for Riverfest, which is one of the largest craft fairs in the Twin Cities. You can check out creations by local artists, enjoy live music, great food, and fun for the whole family.
Also a Specialty for Anoka is Halloween. So much, it is known as the the Halloween Capital of the World. The city bring out all the stops with everything from a largest pumpkin contest to a scavenger hunt. There are also two main parades: Light Up the Night and the Grand Parade that takes place the Friday before Halloween.
So come and discovering Anoka's history, food, trails, and bike friendly attributes for your #nextbikeadventure in the Twin Cities Gateway.