Anoka's Heritage Home and Garden Tour is enjoyable by bike
At the confluence of the Rum entering the Mississippi River you will find many beautiful turn-of-the-century homes and gardens to tour. Explore 13 historic neighborhoods on the Anoka Heritage Home and Garden Tour.
A part of the Twin Cities Gateway communities, Anoka happens to be a very bike friendly town. Biking is the perfect way to travel from one historic home to the next on this tour. The locations are far enough away from each other that you may not want to walk? On the other hand, they are close enough that driving is cumbersome. Biking is great way to justify stopping at one of the many establishments downtown and grabbing a delicious treat after the tour.
The Heritage Home and Garden Tour
This year there are around 18 stops on the tour, showcasing the community's past while flower gardens in bloom. Also featured this year is the Federal Cartridge Clubhouse. Along with a special pop-up tornado exhibit and marketplace at the Anoka Armory, that had been completely destroyed in the 1939 disaster.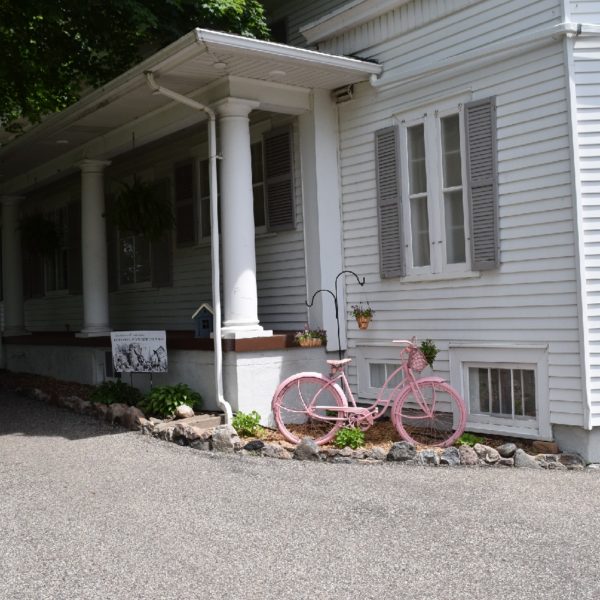 As you tour this river community admire some of Minnesota's most beautiful homes and gardens up close. From the historic neighborhood of Slabtown to Christian Hill, discover how they got their names. Hear the stories of the first occupants who lived there, on this tour.
One of homes featured on tour is the Ticknor Hill Bed and Breakfast. Listed on the National Registry of Historic Places this B&B was built in 1867. Another location is The Mad Hatter Restaurant & Tea House, in the Woodbury House with great gardens, is also listed on the National Registry Historic Places. These are just two of the many homes on this tour that you will enjoy seeing.
All participants receive a tour booklet, which contains a map and addresses for you to easily  find the charming homes and gardens on the tour. Once you have purchase your tour book, with map, look at these locations on the city's bike map showing connectors trails.
For more bicycle opportunities in the Twin Cities Gateway check out these maps.
Watch the Fridley Historic Home and Garden tour video on YouTube. (Link opens in new tab) 
See the Fridley Historic Home and Garden Tour Event Tickets site for more information and to purchase tickets!