Excite Your Taste Buds! Extreme Foods in Twin Cities Gateway
No adventure is complete without some equally adventurous or exciting flavors! To kick off our excitement for the highly-anticipated return of Minnesota's Great Comeback-together –  the Minnesota State Fair – we've gathered a list of wacky and one-of-a-kind foods to continue your flavor journey! From one-pound pancakes and a natural disaster-inspired ice cream sundae to Texas-sized doughnuts and a food truck festival, we've got plenty of out-of-this-world tasty treats to prep your tummy for the main event!
Anoka Food Truck Festival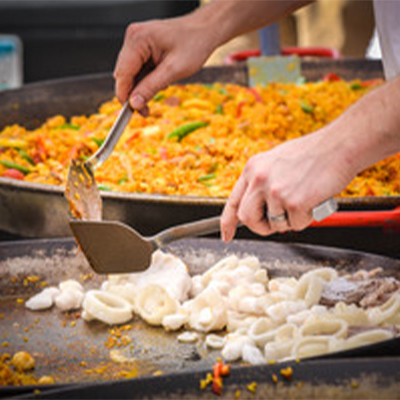 One of the Twin Cities most popular and delicious free events – The Anoka Food Truck Festival– will invade Downtown Anoka for its 4th year on Saturday, August 21st. We will be showcasing over 50 superstars of the streets with dishes ranging from crispy pork belly and green papaya salad to gourmet mini doughnuts and wood-fired pizzas. Wash it all down with a hefty variety of local craft brews and classic favorites. We don't discriminate, you'll also be able to find ciders and nonalcoholic drinks as well. The stage will feature multiple live bands throughout the day. We will have games and give a way's, such as giant connect 4 to bags, and hammerschlagen. We're confident you will find plenty of entertainment for the whole family!
Texas Doughnuts
Nothing says challenge quite like eating a doughnut the size of your head! While most customers at Hans' Bakery share the infamous Texas Doughnut treat amongst several friends, there's no denying the truly extreme route is to tackle the entire sweet frosting-covered pillowy pastry all on your own. The only thing that's crazy about the flavor is just how good it is. For another unique treat try the German Beehive – a yeast-raised cake baked, then split and filled with a pastry and whipped-cream mixture. The family-owned bakery has been open since 1973 and is known for its impressive and ornately decorated cakes and cookies too!
Tornado Sundae
You may be a fan of ice cream, but it will take a true love of the dairy delight and endurance to make it through the mountain of frozen fun that is the Chase the Tornado Sundae at Two Scoops! Just like storm chasers, this treat requires a certain treat-seeker that is up to the challenge, or a flock of friends to make it much more enjoyable! This 20-scoop challenge has a scoop of every flavor available, all topped with hot fudge (or another topping of your choice), whipped cream and a cherry on top, the defining peak of the summit of sugary success!
One-Pound Pancakes
Speaking of giant treats… Pull up to R.J. Riches Family Restaurant in Mounds View and order a pancake, and you may need a forklift to pick it up! The family-owned cozy spot, is serving up their secret recipe of huge pancakes. Choose from a wide array of flavors from more traditional like blueberry and strawberry to chocolate chip nut and Hawaiian (ham and pineapple).
Waffles & Wine
On Saturdays, we brunch to the max! Head to Ambi Wine Bar in downtown Anoka for its signature Saturday brunch. Choose from a variety of delectable Belgian waffle combos including a wide variety of sweet and savory toppings. Each waffle pairs perfectly with a wine or mimosa flight, or any glass of wine you see fit!
Make it a Weekend!
With so many extreme flavors and treats to explore, you're going to need an extra-large appetite and plenty of extra time to explore the many events and attractions that Twin Cities Gateway has to offer! Did we even mention all the things to do?!
Extend your foodie adventure with a cozy stay at one of 25 hotels in the Twin Cities Gateway!
Share your foodie adventures with us on Facebook, Twitter, and Instagram with the hashtag #VisitTCG.
For more ideas to extend your adventure in Twin Cities Gateway, head to our blog, where you'll find 20 Things To Do in Twin Cities Gateway,  the scoop on tasty ice cream treats, superb patios, BIPOC-owned businesses to support, and so much more! Plus, follow us Facebook, Twitter and Instagram for more adventure inspiration! For the latest news and updates, sign up for our e-newsletter below!